About Us
Dr. Schmitt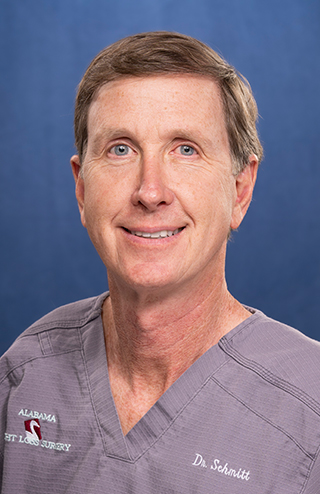 Lee Schmitt, M.D., F.A.C.S.
Dr. Lee Schmitt is a Leeds, Alabama native and Phi Beta Kappa graduate of the University of Alabama. He received his M.D. Degree from the University of Alabama School of Medicine and completed his Internship and Residency training in General Surgery at UAB. He has been a St. Vincent's East surgeon since 1995. Dr. Schmitt is Board Certified in General Surgery and currently specializes in all types of laparoscopic surgical procedures including weight loss surgery, anti-reflux surgery, and surgery of the gastrointestinal tract.
When Dr. Schmitt is not working, he enjoys a wide variety of activities. He is a beekeeper and a pilot. He still drag races his Buick Grand National and was an amateur national champion on 750 cc superbikes. Dr. Miles and Dr. Schmitt are both members of the Church of the Highlands.